We now have Hairbands and Barrettes for sale!
$5.00ea in the Rose Shop.

Check it out!
We got good news today! We had talked to Jonathan's teacher about donating to the Avenues program, which is an in-school vocational program for students with autism in Lincoln Park, Michigan and part of the ASD program in Lincoln Park High School, and we got the OK from the Director of the program!
Avenues have fundraisers in-school every school year to raise money for needed classroom supplies aimed for helping students with Autism succeed in the Avenues classroom to help prepare them for life after school.
For Shunt Research, Jonathan wants the donations to be going to www.stars-kids.org. STARS-kids (Seeking Technologies Advancing Research in Shunts) is a Detroit based Non-Profit organization.
Our Rose Shop, is now open! Right now we are only offering the Short/Medium stemmed Roses and the Long stemmed Roses for sale. We plan to gradually add the accessories as we can. We don't want to overwhelm Jonathan too fast!
As always, for any questions of concerns, please visit our Contact Us page.
Thanks for stopping by!
Jonathan now has a deviantART page! On it there will be some other creative things he likes to do. Along with crocheting, he enjoys drawing and whittling wood.
Visit him on deviantART at: RoseDragonGuardian92
An Article from The News-Herald.com,

featuring Jonathan and his Marketing class.
Chiari Malformation Awareness

**Jonathan's Crocheted Roses is NOT a "Non-Profit" site nor is it affiliated with any one charity.**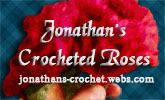 All Photos are
©Jennifer Lee Christensen
All Crocheted work and designs are
©Jonathan Zachary Jackson